AT BOLLÉ, WE DON'T CLAIM WE ARE GOING TO SAVE THE PLANET, BUT WE DO STRIVE TO REDUCE OUR IMPACT.
FOR THE 23/24 WINTER SEASON, THE BOLLÉ TEAM HAS POURED ALL ITS ENERGY INTO PURSUING ITS APPROACH TOWARDS SUSTAINABILITY WITH THE NEXT PHASE OF ITS "REACT FOR GOOD" PROGRAM.
WE ARE PROUD TO ANNOUNCE THAT WE ARE LAUNCHING THE WIDEST RANGE OF ECO-DESIGNED WINTER SPORTS PRODUCTS AVAILABLE ON THE MARKET WITH AN HYBRID HELMET, AN IN-MOLD HELMET, A VISOR HELMET, A PAIR OF TORIC GOGGLES, A PAIR OF CYLINDRICAL GOGGLES AND 5 PAIRS OF MOUNTAIN SUNGLASSES.
HELMETS MADE OF 40-45% RECYCLED OR BIO-BASED MATERIAL
We use recycled polystyrene, polycarbonate and ABS for the inner and outer shells of our eco-designed helmets. In addition, the fabric padding and earpads, as well as the plastic straps and dividers are 100% recycled.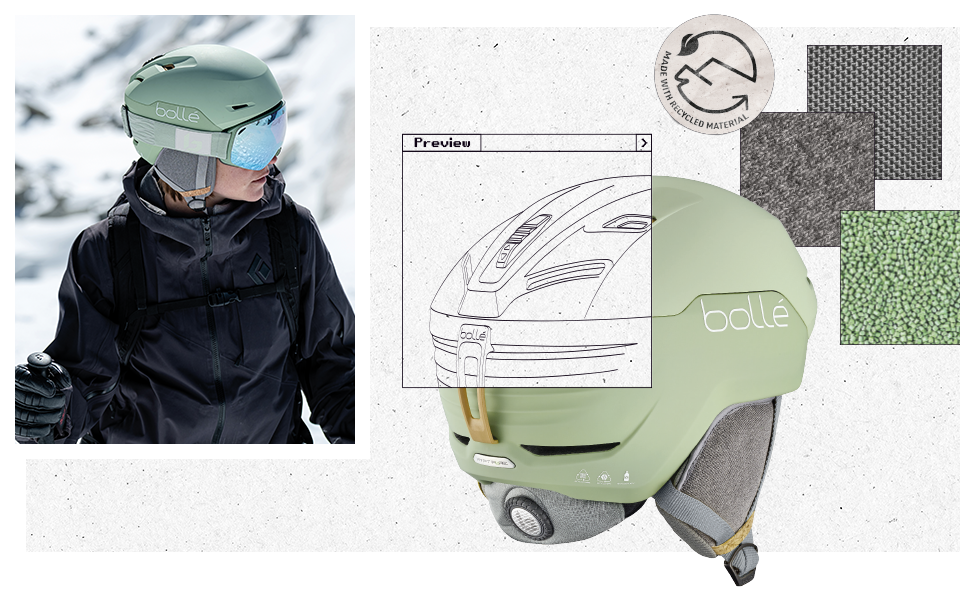 GOGGLES MADE OF 35-40% RECYCLED OR BIO-BASED MATERIAL
Our eco-designed goggles' frame and adjusters are 48% bio-based (made with renewable castor oil) and their strap is made of 65% recycled polyester with 100% recycled patches.
ECO-DESIGNED PACKAGING
Because eco-design is not just about the product itself, we use recycled cardboard, soy-based ink, and water-based glue for the packaging of our eco-designed helmets and goggles, and we are targeting to widespread it across all our packaging (boxes, cases, pouches, etc.) by Autumn/Winter 2023.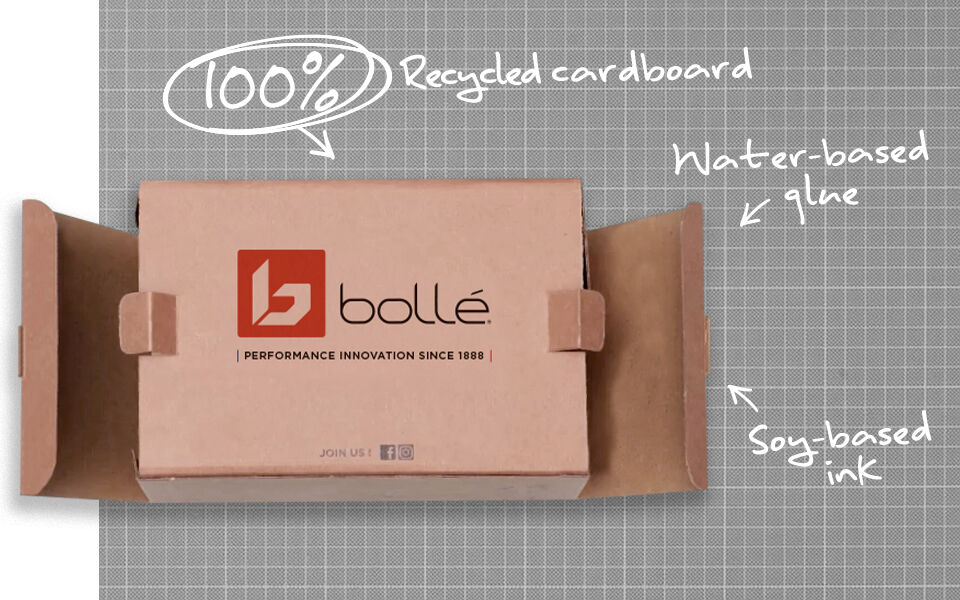 LEARN MORE ABOUT OUR SUSTAINABLE APPROACH
Shop eco-designed products: