A good ski goggles protects your eyes from UV rays and guarantees you optimal vision in good and bad weather.
Your mask will also provide you with excellent comfort in the event of wind, cold or snowfall.
How to choose your ski goggles? What are the criterias to take into account?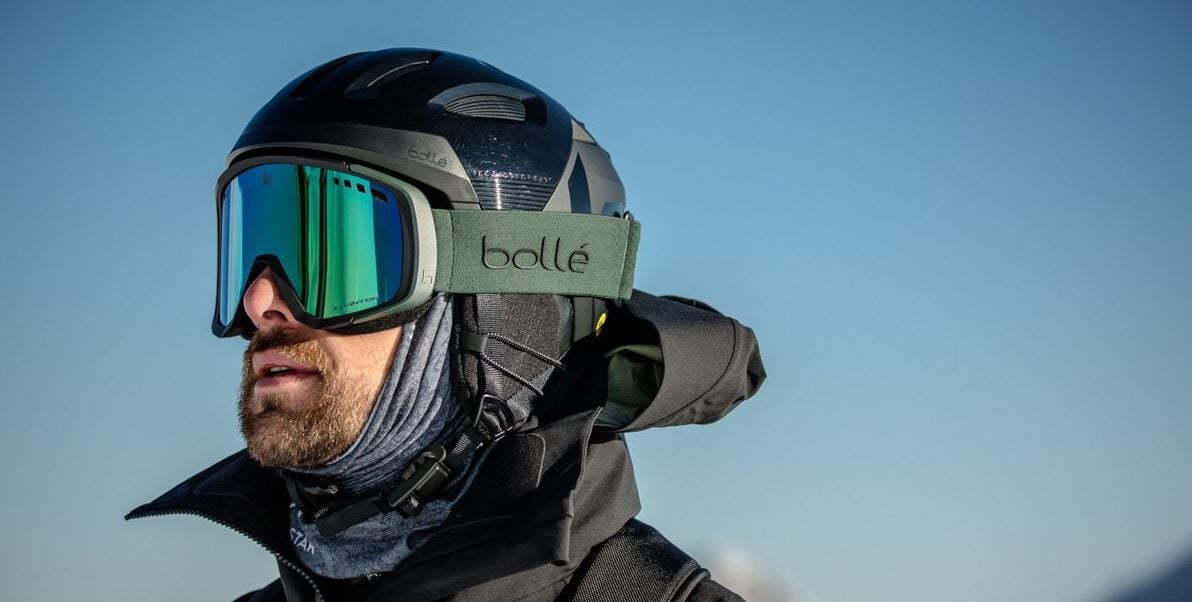 The different optical qualities of ski goggles
The optical qualities of your ski goggle's screen should be number one on the list of items to check when considering buying a new pair.
Protection index and category
To choose your ski mask, it is important to know in which conditions you want to practice: in good weather only? In difficult weather conditions? At high altitude? Even though all ski goggles filter 100% of UV rays, not all of them transmit the same amount of light. Depending on the weather conditions, you will therefore not have the same needs. This is why the ski goggles are classified by solar categories. These 5 categories indicate the amount of light filtered.
• Category 0: transparent screens. They let through 80 to 100% of light and are intended for evening / night time.
• Category 1: clear screens allowing good visibility in cloudy weather. They transmit between 43 and 80% of luminosity and thus allow to increase contrasts and reliefs. Ideal for skiing in bad weather and in fog.
• Category 2: offers good protection against glare by allowing between 18 and 43% of brightness. These screens allow you to ski in cloudy weather or in the shade. They are also suitable for sunny weather if you are not too sensitive to light.
• Category 3: ideal for a day's skiing in good weather as it effectively protects against solar glare. These screens only transmit 8 to 18% of light for skiing in peace on sunny days.
• Category 4: is intended for high altitude terrain such as glaciers. These screens only transmit 3 to 8% brightness to ensure extreme protection and are not intended for general skiing. This protection factor is rarely intended for ski goggles and must be reserved for glacier eyewear.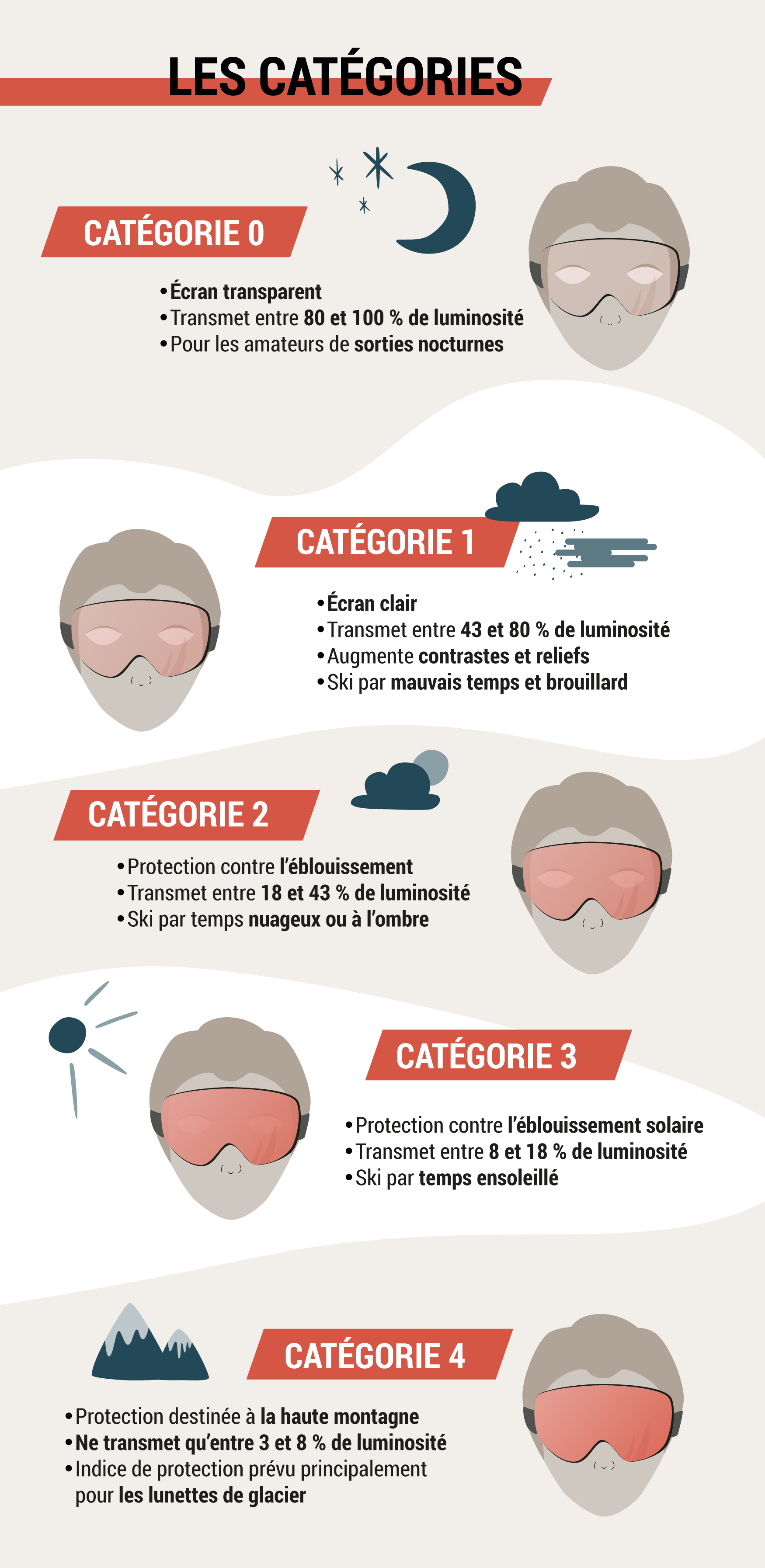 Screen treatments
The screens of ski goggles benefit from numerous treatments to bring you maximum comfort and performance during your outings in the mountains.
Polarizing treatment: it is applied to all category 3 ski goggles and to certain photochromic screens. It increases contrasts and reduces reflections. The polarizing treatment offers real visual comfort and excellent optical definition.
Anti-fog treatment: applied inside the lens after manufacturing, it is essential to prevent fogging of your ski goggles. This treatment is now present on all ski goggles - the vast majority of them are, moreover, built with a double lens to limit the appearance of fogging. To ensure the proper hold of the anti-fog treatment, it is recommended not to clean the inside of the mask screen when it is wet to avoid damaging the anti-fog treatment.
Mirror treatment: it's not just an aesthetic choice. The mirror effect protects your eyes from the glare of the sun caused by the reflection on the snow. The mirror treatment applied to a mask can display different shades. On category 1 masks, suitable for bad weather, the mirror treatment is often transparent. On category 2 and 3 ski goggles, you can play more with the colors depending on the style you are looking for.
Anti-scratch treatment: it protects the screen of your ski goggles from scratches.
The comfort of the ski goggles
When choosing your ski goggles, you should pay attention to the elements that make it up, because each ski goggle is different.
The structure
The structure of the ski goggles consists of a frame, a shield, foams, a ventilation system and a strap. From ski goggles to ski goggles, each item can be different.
The frame
The frame designates the outline of your ski mask. There are three different types of frame.
Fullframe: the frame is visible and surrounds the screen.
Frameless: Translated as frameless, this type of mask has no visible frame and the screen covers the entire structure of the mask. This has the effect of providing a maximum field of vision.
Semi-frameless: halfway between fullframe and frameless, this type of mask gives pride of place to the big screen and only lets the frame appear slightly. We also speak of "partial setting".
The screen shape
There are two forms of screen.
Spherical: Spherical screens are built - as the name suggests - around a sphere. They therefore have a curved, rounded, very trendy shape. Besides the style, they offer excellent horizontal and vertical optical vision and good ventilation. However, their price is higher than cylindrical screens.
Cylindrical: flatter, cylindrical screens offer a large horizontal field of vision. This is the original screen model, so it gives a more vintage look. This type of screen is more flexible, more resistant and less expensive than the spherical one. But it slumps in terms of optical vision and airflow compared to its counterpart.

The foam
Foam is the part of your mask that comes in contact with your skin. From the cheekbones to the forehead to your nose, this mousse follows the contour of the mask. Ski goggles can be made from three types of foam: single density, double density or triple density. To be comfortable, it is better to opt for a high density foam because it will adapt to the shape of your face. The ventilation foam placed around the edges of the mask is less dense to prevent fogging.
Ventilation
As with a ski helmet, ventilation is important on a ski goggles. This ventilation is made possible by the air inlets provided in the structure of the masks. Ventilation is also provided by the foams located on the upper and lower parts of the mask. But rest assured, aeration does not mean feeling cold. The ventilation system is designed to provide air circulation that is supposed to prevent fogging, but not to let the cold through.
The strap
The strap designates the headband of your ski mask. Depending on the mask models, the strap can offer different options: ease of adjustment to adjust to your head circumference, silicone anti-slip bands, etc.
A ski mask adapted to its practice
Which ski mask for which use? As mentioned at the start of this buying guide, each sun category is suitable for certain weather conditions. So how do you choose the most suitable ski mask for your practice?
The single screen ski goggles
This type of ski goggles comes with a single lens of category 0, 1, 2, 3 or 4. Category 1 and 2 goggles are the most sold. Category 1 masks allow you to ski in fog and bad weather, while category 2 masks are very versatile. A single-lens ski goggle is suitable for occasional skiers but may also be suitable for more demanding skiers who will then leave with two goggles instead of one.
The ski goggles with interchangeable lenses
The ski goggles with interchangeable lenses allow you to change the lens depending on the weather. This type of mask is generally sold with a cat.1 screen and a cat.3 screen or a cat.2 screen and a cat.4 screen. The ski goggles with interchangeable lenses are aimed at those who like to ski in all weather conditions, and freeride enthusiasts.
Photochromic ski goggles
Even better than the goggles with interchangeable lenses, the photochromic ski goggles adapt to variations in light. You don't have to do anything, your mask takes care of everything! Thanks to this technology, your screen is tinted according to the brightness. So, whatever the weather, you always see just as well. Photochromic screens cannot, however, cover all of the categories from 0 to 4. A photochromic screen can cover categories 1 to 3, 2 to 3 or 2 to 4. These ski goggles are intended for downhill skiers on the slopes. looking for a versatile helmet.
Over the Glass ski goggles
Over the glasses OTG ski goggles are designed for wearers of prescription glasses. These masks are deeper to allow you to keep your glasses under your mask without having a pressure point. The ventilation system of the OTG ski goggles also helps prevent the risk of fogging.
Trying on your ski goggles for size: our tips
Ski goggles are not one size fits all. Some styles are designed for children, others for thin faces while some are designed for larger faces. That's why we recommend that you try on your mask before you buy it. Here are the points you should be aware of when trying on your ski goggles.
You should be comfortable and not feel any compression on your forehead, nose, temples or cheeks.
The foam should not get to the corner of your eyes.
The mask should appear airtight and fit snugly around the eyes.
If you wear a helmet when skiing, you should also try your ski goggles on with your helmet to make sure that:
the mask strap is large enough for the mask to pass over the helmet;
the mask is not too tight and does not create a compression point;
there is no space between the top of your helmet and your mask to avoid the cold bar.
How to take care of a ski goggles?
In order to maximize the longevity of your ski goggles, you can follow these tips.
Store your mask in its case for transport and storage, and avoid storing it in contact with objects that could scratch it, such as keys.
Never wipe the inside of your screen when it is wet to avoid damaging the anti-fog treatment. Wait until the screen has dried and clean it with a microfiber cloth.
After a ski session, take the mask out of its case to dry the foams. Dry indoors but do not put your mask near a heat source (radiator, fireplace, stove, etc.).
What to remember when choosing your ski goggles
To choose your ski mask, remember that there are:
several solar categories adapted to different meteorological conditions (gray weather, sun, high mountains)
different screen shapes with different visual qualities
screen technologies (single, interchangeable, photochromic screen) adapted to your skiing practice.