Team presentation
Created in 2017, the B&B Hotels p/b KTM is based in Brittany, France. A region where for over a century, the heart of cycling beats strong. For training and competitions, the team will wear the best products from Bollé's Performance range including Lightshifter and Chronoshield with our exceptionnal Phantom lenses.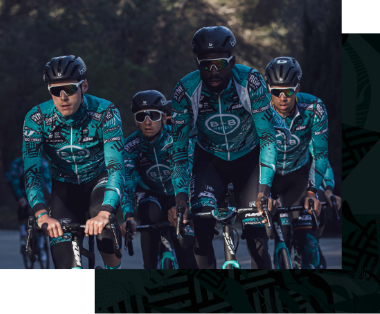 The team's Bollé® gear
Lightshifter
Semi-rimless style with a great fit, LIGHTSHIFTER incorporates the best of our technologies. Curved temples, vented shield and exeptionnal Phantom photochromic lenses have made LIGHTSHIFTER the natural choice for the B&B Hotels p/b KTM pro cycling team.
These glasses come with all the comfort, lightness and style you look for on a competition level.
They adapt the light super quickly, when you factor in the style and confort, they are a real treat to wear.
In raining conditions, the drops stay clear from the lens and fog never appears. I never take them off!
Furo MIPS
Make the wind your ally with FURO. With its sportscar-inspired design, FURO has all it takes to perform on the road: aerodynamic profile, light-weight and great cooling. Key features include the Opti-Dock and a 360° integrated MIPS fit system for maximum comfort over the longest distances and the best protection.
The MIPS system is a big plus in terms of safety, a must have in my view.
I love its aggressive look. This helmet ensures great support, the fact that there are removable parts makes it a very versatile product.
This partnership between Bollé and the B&B Hotels p/b KTM team is a great source of pride. Being part of such and iconic brand with its roots in cycling brings a lot of excitement to the team. We are all aware of Bollé's heritage and the riders know they can put their trust in its products.
Jérémy Pineau,
Manager at B&B Hotels -
Vital Concept p/b KTM