Top-level cycling: embedded in Bollé's DNA.
The very first sports sunglasses were launched by Bollé in 1958 and were worn by cycling legends such as Louison Bobet, Miguel Indurain, and Laurent Jalabert. Since 2021, the French brand has underlined its commitment to the sport, equipping the B&B Hotels - KTM team with helmets and sunglasses.

Team presentation
Created back in 2017, the B&B Hotels – KTM team is based in Brittany. Cycling has been in the region's blood for more than a century. For training and competition, the riders wear the best products from Bollé's Performance range, including the C-SHIFTER with its Volt lens, the ICARUS equipped with exceptional-quality, all-weather Phantom lenses, and the new AVIO MIPS helmet since spring.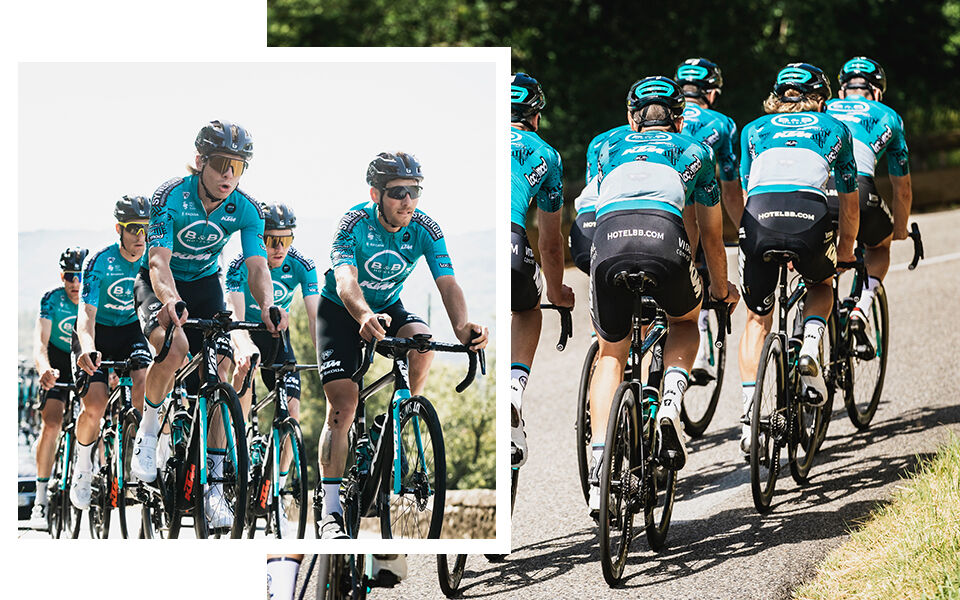 AVIO
MIPS
The AVIO is Bollé's ultimate high-performance road helmet. The fastest cycling helmet ever designed by the brand has it all. Ultra-lightweight, super ventilated with cutting-edge aerodynamics, it features MIPS AIR, MIPS's most lightweight brain protection system. The AVIO is all about details with an Opti-Dock designed to securely hold all-sized sunglasses and even a ponytail compatibility. A new generation of helmets with no compromise!
"It's even lighter than I imagined, you don't feel it on your head. It is also very ventilated and that is pleasant when the weather is hot. In terms of head support, it is very comfortable, and the MIPS system ensures maximum safety. I also like its clean design."

Victor Koretzky
C-SHIFTER
At the cutting edge of trends and performance, the C-SHIFTER is the newcomer in the SHIFTER range. The semi-circular, cylindrical structure improves ventilation, the TR90 nylon frame is light, flexible and comfortable, and the Thermogrip® adjustable nose piece provides perfect fit and stability whatever the intensity of your ride. Available with VOLT, the revolutionary colour-boosting lens.
I like the fact the sunglasses wrap right round my face, they're comfortable and stable in all circumstances. The lens with the Volt technology is high quality and provides optimum colour visibility. There are multiple frame colour options so I change it every day!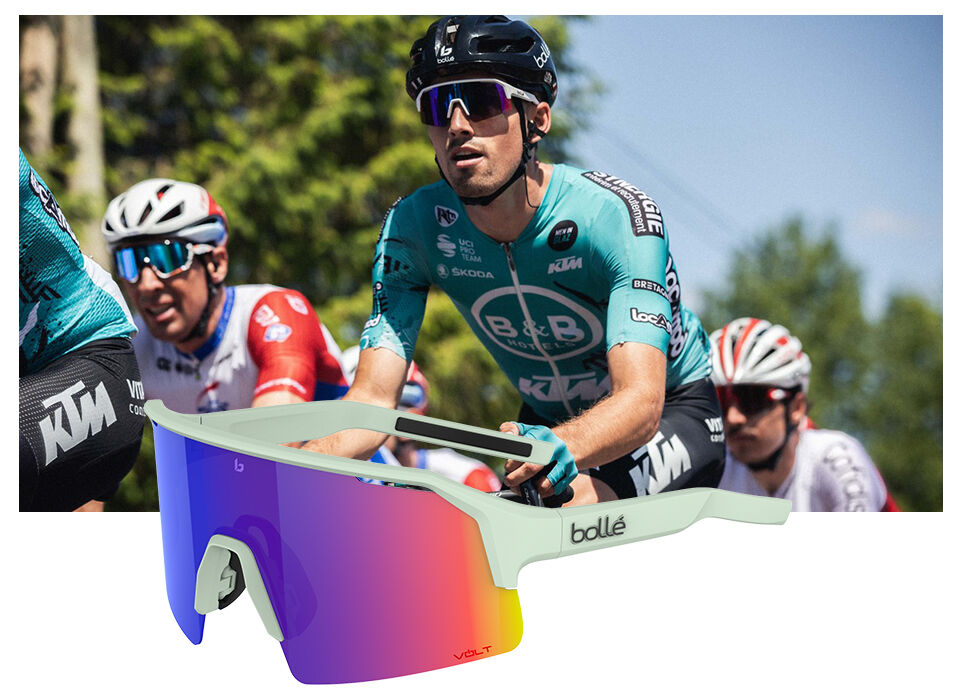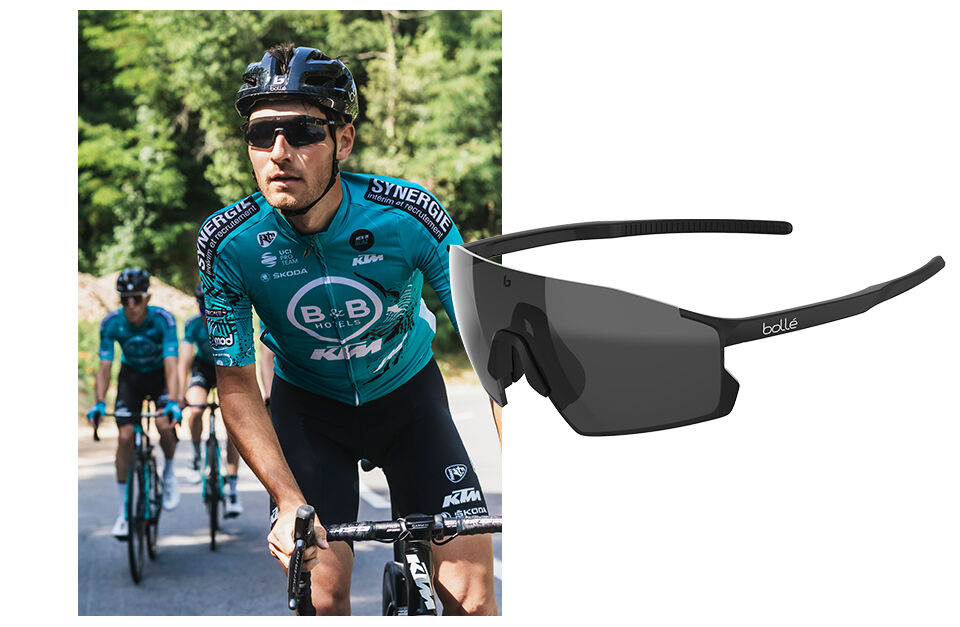 ICARUS
Light as a feather, the ICARUS is the new favourite among riders. 23 grams of pure performance with rock-solid stability guaranteed by Thermogrip® inserts on the temples and nose piece. This basic frame 6 is available with Phantom, our best photochromic lens for uncompromised visibility and with VOLT, our revolutionary colour-boosting polarised lens. Prescription versions of the ICARUS model and its two high-performance lens technologies are also available. Users include B&B Hotels - KTM rider, Cyril Gautier.
"We were quite unanimous in the team, we were astounded by the quality of the Phantom lens when we put on the sunglasses for the first time. What struck us was how light and compact they were, too. This is why I'll be using these sunglasses for hard mountain stages. It won't change everything, but it's important to know that you've got this kind of high-performance kit! "
Franck Bonnamour
We're really proud of this partnership with Bollé. Collaborating with such an emblematic brand, with deep roots in our sport, guarantees both quality and reliability. We are all aware of Bollé's history and the riders know that they can entirely trust the products. They are the first ambassadors for the products they wear and can provide the brand's management with feedback. The first year of our partnership drove everyone forward and saw key improvements being made. Sunglasses and helmets are key items of kit to ensure rider safety and performance: we all want the best quality possible.
Jérôme Pineau, Team General Manager B&B HOTELS - KTM