Whether you are a road biker, a mountain biker or simply an everyday cyclist, cycling glasses can be essential in your practice. Depending on use, the needs and constraints are not the same: sun protection, protection against splashes, protection against wind and cold... Focus on cycling glasses and the criteria to take into account to choose them.
Lens quality
Comfort and look of cycling glasses
Which glasses for which cycling practice?
How to take care of your cycling glasses?
3 tips for choosing your cycling glasses
Lens Quality
Glasses are both style and protection against the elements. For your eyes to be best protected and for you to benefit from the best treatment when cycling, the quality of the lenses is essential.
Glasses protection categories
As with ski goggles, cycling glasses benefit from several categories of sun protection. Why ? Quite simply because we do not have the same needs on a cloudy day as on a sunny day. You can also go on a road bike ride in winter and need glasses to protect yourself from the cold and humidity rather than the sun. Goggles may also be necessary on a mountain bike to avoid splashing water, mud, or even to protect yourself from possible branches. Cyclocross enthusiasts also know something about it!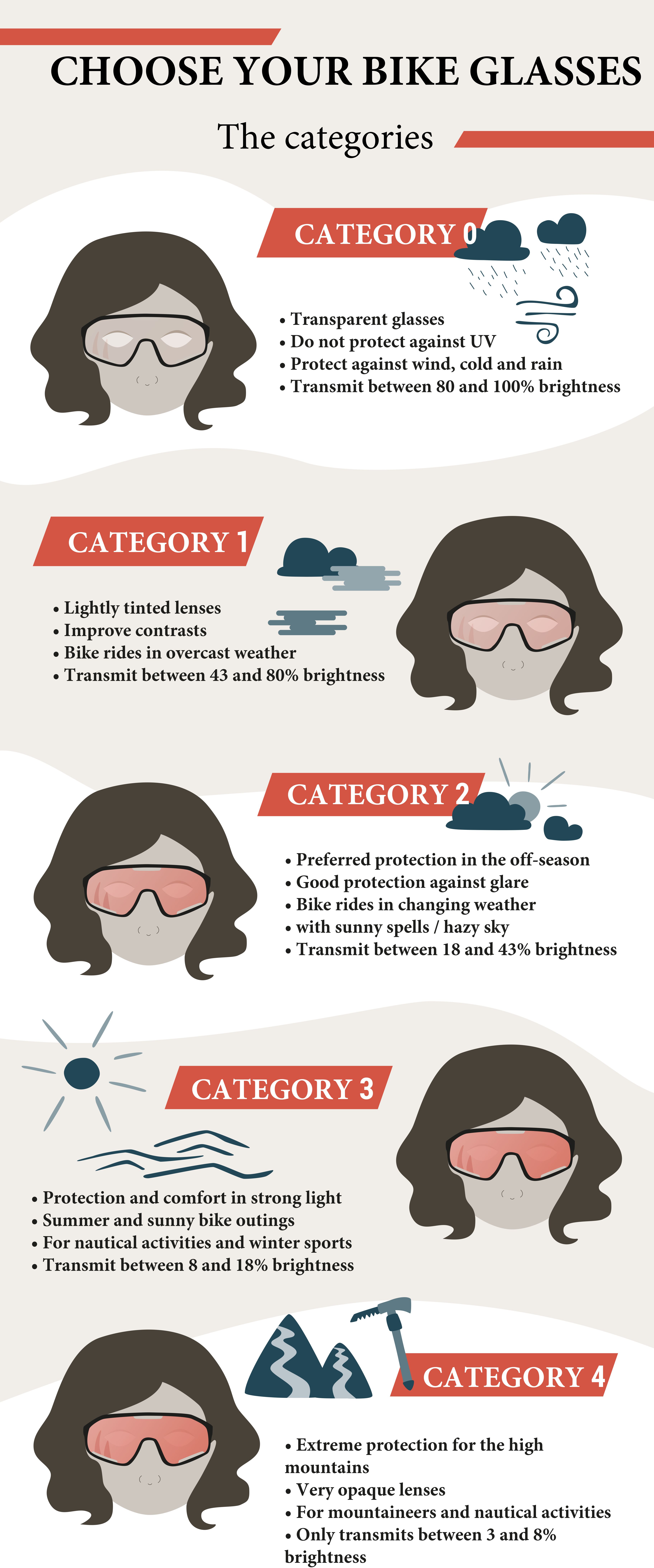 Cycling eyewear lenses are classified into five categories, from 0 to 4.
Category 0: these are transparent glasses. The glass is white, as for glasses. These lenses are not intended to protect against UV or glare, but rather against wind, cold and rain. They transmit between 80 and 100% of the brightness.
Category 1: these slightly tinted lenses provide visual comfort for cyclists because they improve contrast. Perfect in overcast weather, category 1 lenses transmit between 43 and 80% of the light.
Category 2: it is the protection to be favored in the off-season. Category 2 lenses offer good protection against glare. They are suitable for bike rides with average sunshine and when conditions are changing with alternating sunshine, cloudy skies, and cloudy spells. Category 2 lenses allow 18 to 43% of the brightness to pass through.
Category 3: Widely used by cyclists in summer, these lenses offer protection and excellent comfort when the light is bright. Perfect for summer bike rides, they transmit only 8 to 18% of the brightness for your comfort. Excellent shields for your eyes in very sunny situations, category 3 lenses are also recommended for nautical activities and winter sports.
Category 4: it is very unlikely that you will have to wear category 4 glasses because they are more intended for high mountains. These are very opaque glasses offering extreme protection. Transmitting only 3 to 8% of the luminosity, they are particularly suitable for mountaineers and nautical activities.
Glass technologies
Photochromic, polarized, high contrast lenses: what advantages can you draw from these lens technologies in your cycling?
Photochromy: this revolutionary technology allows the lenses to adapt to light conditions. Rather than buying a pair of cycling glasses sold with interchangeable lenses from several categories, photochromic lenses adapt according to the brightness. They cannot cover all the categories (from 0 to 4), but they are offered in several ranges of categories 1 to 3, 2 to 3, 2 to 4. Versatile, these glasses do not require any handling.
At Bollé, Phantom photochromic lenses ensure precise visual acuity, whatever the weather conditions. With the changes of light, the lenses of your glasses go from category 1 to 3 in less than 30 seconds.
High Contrast: how about cycling glasses that enhance colors and accentuate contrasts slightly to ensure better vision? High contrast lenses increase the perception of colors and depth while offering a natural perception of whites.
With Volt + high contract technology, Bollé cycling glasses increase color perception by 30% thanks to their patented formula.
Polarization: it helps to avoid reflections. The polarized treatment on glasses is able to cancel the reverberation of the sun's rays on tarmac, water, snow. If this treatment is essential in the mountains because of the strong reverberation on the snow or for water sports with reflections on the water, this treatment is also important for cycling glasses. Indeed, flat surfaces such as roads also promote the reflection of light. This deviated solar radiation, called "polarized light", is very dazzling.
Glass treatments
To bring you more comfort, improve your performance but also offer you more safety when cycling, the lenses can be equipped with treatments: anti-fog, scratches, hydrophobic, etc.
The anti-fog treatment prevents the phenomenon of condensation. It mainly appears in winter when the air is cold and your body is warm due to exertion. The heat emanating from your face promotes the appearance of fogging on the glasses. This phenomenon of condensation is particularly uncomfortable because it affects visibility and entails the risk of falling. The anti-fog treatment prevents the appearance of fog on your glasses.
Anti-scratch treatment: as its name suggests, it strengthens the lenses and prevents scratches. This treatment is added to polycarbonate lenses and plastic lenses to better protect them. Anti-scratch treatment is strongly recommended for mountain bikers and cyclocross enthusiasts.
The hydrophobic and oleophobic treatment: it prevents the appearance of water marks on the glasses by encouraging the flow of water drops on the glass. Result: instead of staying on the glass, drying and leaving traces, the drops slide on the glass as they would on a waterproof garment.
Comfort and look of cycling glasses
If the choice of lenses for your cycling glasses is fundamental, it is also important to observe their shape and weight.
The frame
The frame of your cycling glasses matches their frame. There are two types of frames on cycling glasses: full rim and half rim. Half rim glasses bring more lightness, but also more ventilation because the lens has no frame on the bottom of the glasses. Don't panic, full rims are also designed with ventilated lenses to promote air circulation.
Are you looking for performance glasses for cycling? Bollé expands its line with the C-Shifter. This new pair of glasses is at the forefront of performance and trends. With its cylindrical design that perfectly matches the shape of the face, it has a half rim structure to ensure perfect ventilation and more lightness to combine performance and comfort.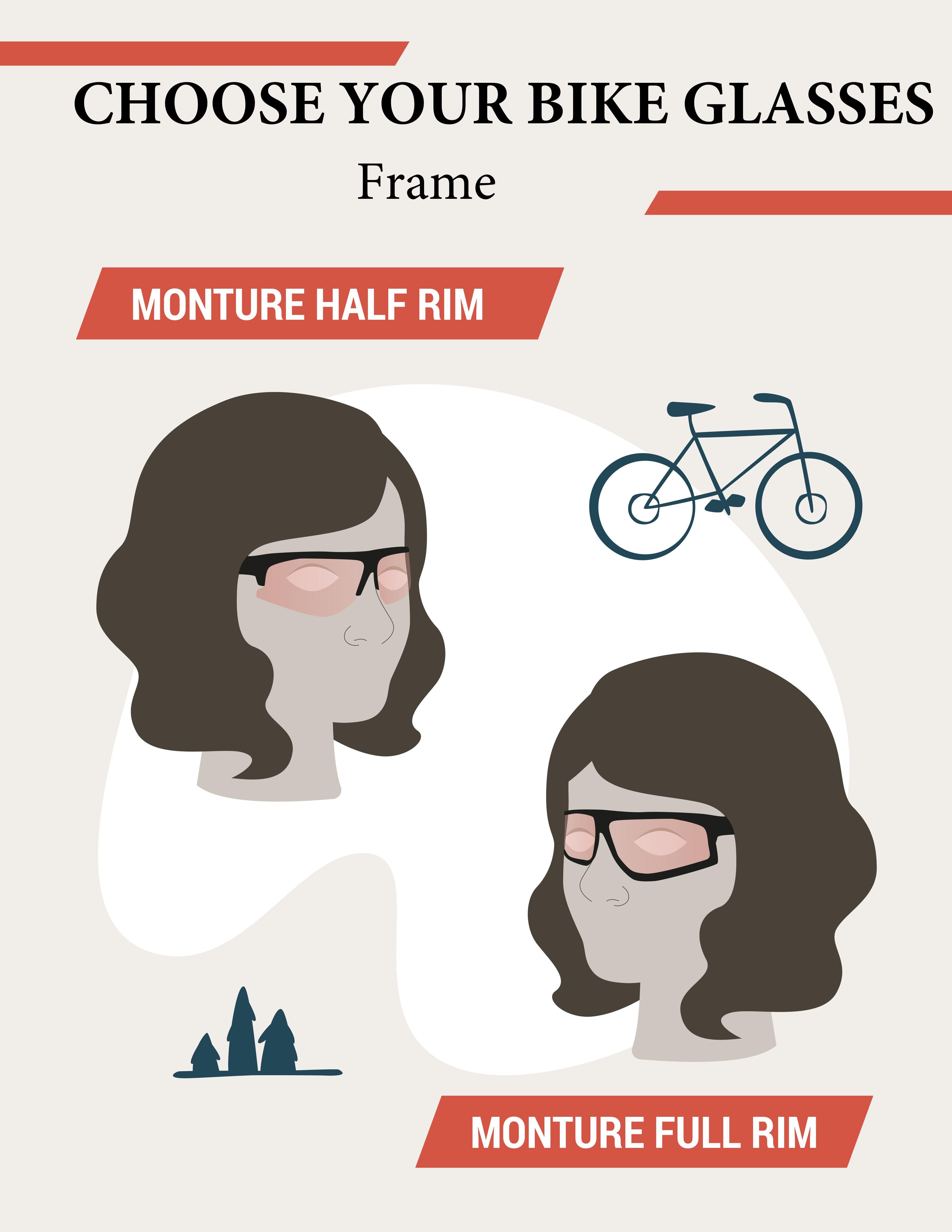 Mono-lens ou bi-lens
With a mono-lens eyewear, a single lens makes up your eyewear. The single lens offers a better field of vision and more effective protection from the wind. But for your daily life, a mono-lens is more difficult to wear because it is very typical of a road bike. Double-lens glasses are easier to wear on a daily basis. They are also lighter and the lenses are easier to replace than a single lens in the event of a problem.
The nose pad
Some models of cycling glasses are designed with an adjustable nose pad. This allows you to adjust your glasses according to the shape of your face and to be perfectly comfortable on your bike thanks to a perfect fit.
The temples
Speaking of support, the branches also have their role to play. The grip on the arms of your cycling glasses must ensure their stability.
Which glasses for which cycling practice?
Rather road bike, mountain bike, or city bike for your trips? The right glasses for each practice.
For road bike or mountain bike outings, it is important to favor well-ventilated glasses. Also prefer a single lens, which offers a wider field of vision and better protection from the wind.
On the road, remember to choose the lens category adapted to the brightness, or opt for photochromic lenses for their versatility. Polarized lenses are also strongly recommended in summer to avoid glare from the sun's reflections on the road.
When mountain biking, anti-scratch treatment is essential to protect your lenses from splashes. A hydrophobic and oleophobic treatment is also to be expected, especially if you go out in winter when the paths are greasy and the weather is wet.
If you use your bike on a daily basis, for your trips in town, prefer lifestyle sports glasses. Their full rim frame combined with bi-lenses offer a more versatile look without compromising on eye protection.
How to maintain your cycling glasses?
During a bike ride, even without mountain biking, the glasses get dirty. Rain, splashes, dust, the lenses are dirty but also the frames due to perspiration. So how do you maintain your cycling glasses? To clean your glasses, we advise you to run them under water. Rinse all the glasses: lenses, temples, etc., and pay particular attention to the lenses because they are the ones that get the most dirt. Cleaning with lukewarm water is sufficient, no need to use soap and especially no dishwashing liquid, for example. The solvents it contains would damage the glass.
Once the glasses are clean, take a microfiber cloth to wipe them.
When your glasses are dry, store them in their case. A hard case is recommended: it will avoid scratches but also any risk of crushing and therefore breakage if you store your glasses in a closet, drawer or glove box.
3 tips for choosing your cycling glasses
In summary, here are 3 key points to remember before buying your cycling glasses:
take into account the specificities of your practice;
prefer a comfortable form of glasses;
choose lenses according to their treatment and technology.