Snow helmets have become over the years an absolute must in terms of safety and style on the slopes and come in all shapes and size. Downhill skiing, ski touring, freeride, competition: how to choose your ski helmet? Here's an overview (size, weight, technology, ventilation, standards, etc.) of what to keep in mind when choosing the helmet most suited to your personal needs and style.
THREE TYPES OF HELMETS
You may want to jump on styles and colors, but your selection should really start on the build of your headwear. Are you looking for the lightest possible ski helmet? Or do you want to put more emphasis on your protection for competition? Introducing the three different builds you'll have to choose from.
ABS helmets:

safety and reliability

Behind the abbreviation ABS hides a thermoplastic, the Acrylonitrile Butadiene Styrene. ABS ski helmets are made up of two independent parts. On the outer layer is a shell made of ABS, underneath the hard protective foam in EPS. The two pieces that make up the helmet are glued together. EPS has the advantage of being extremely light since it is 95% air and 5% plastic. Although solid, the EPS is deformable and it is therefore this hard foam that will absorb the shock in the event of a fall.

Skiers who want to focus on safety and reliability will turn to ski helmets equipped with ABS technology, such as the Medalist and Mute helmets.
In-Mold ski helmets:

lightness and ventilation

The In-Mold technology ensures a great lightness to the ski helmet. Unlike an ABS helmet, the In-Mold ski helmet is therefore composed of a single piece. The product stands out for its lightness and excellent ventilation. At Bollé, Motive and Instinct helmets both benefit from In-Mold technology.
Hybrid ski helmets:

the best of both worlds

Hybrid helmets combines the characteristics of the two previous technologies. Hybrid helmets are therefore composed of an outer shell in ABS and a protective EPS foam underneath, as well as a lower part in In-Mold. This "mix" provides excellent protection and good resistance in the event of a big fall while ensuring the lightness of the helmet. The Ryft helmets are designed with hybrid technology to ensure lightness and its world-class ventilation, while guaranteeing maximum safety.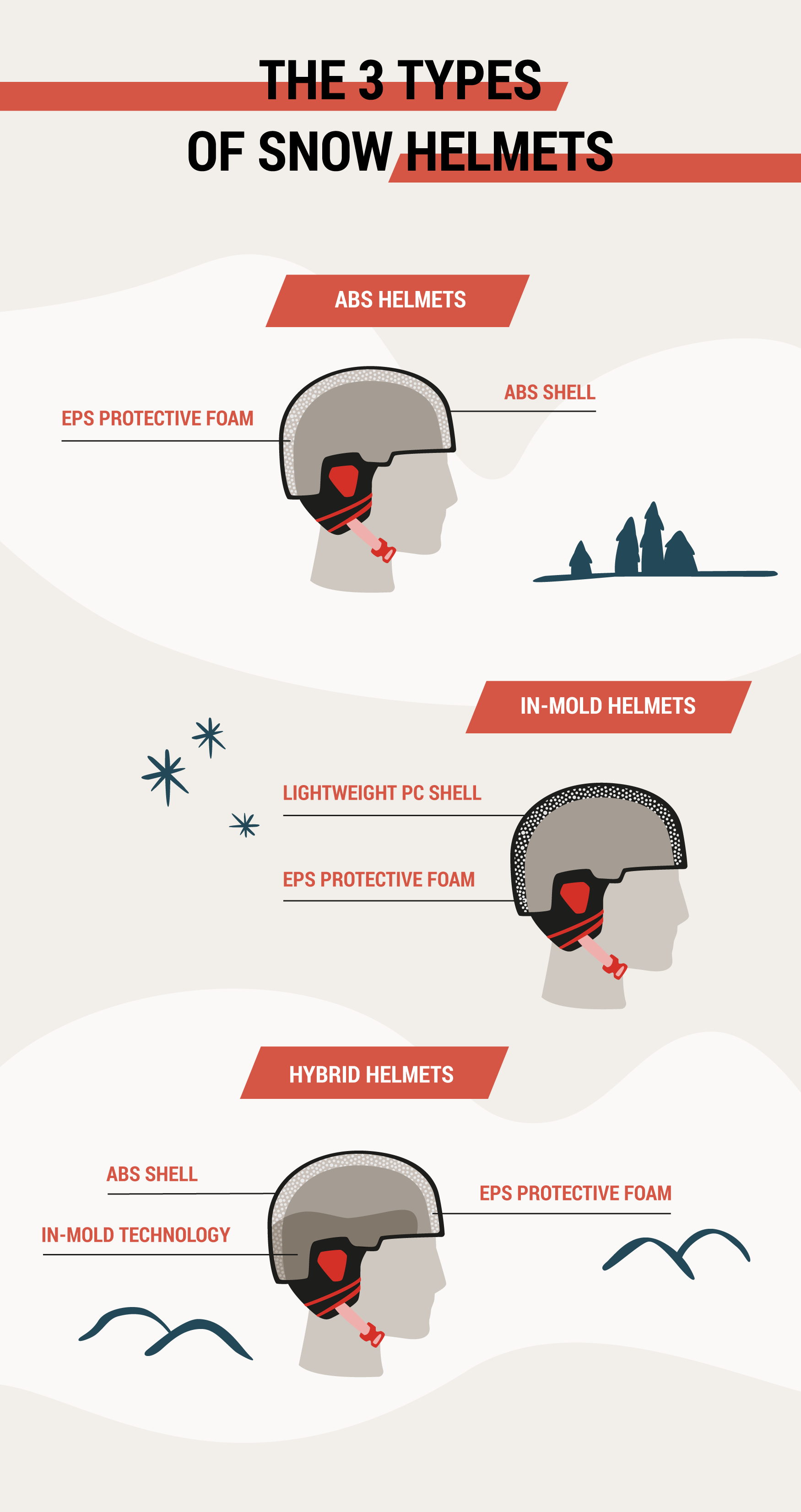 KEY FEATURES
To help you choose your ski helmet, you can also observe the comfort elements offered on each helmet: ventilation, size adjustment, chin bar, etc.
Ventilation
Being cold in your ski helmet is not pleasant but being too hot is not either. In addition, excess heat leads to sweating and therefore to a feeling of cold afterwards. To avoid this, ventilation plays an important role. When buying a ski helmet, it is therefore important to check whether it has a good ventilation system.
Most helmets have a ventilation system, but the ideal is to be able to adjust this ventilation according to the efforts made and the temperature. In fact, in the event of sun or bad weather, or depending on the altitude, conditions can change very quickly in the mountains. An adjustable ventilation system adjusts the air flow and thus controls the temperature under the helmet.
The visor
The visor is optional, but a ski helmet with a visor can be very practical. It protects your eyes from UV rays and eliminates the need to put on and off your sunglasses or goggle depending on the sunlight. For those who wear prescription glasses, the visor can also prove to be useful. Finally, a visor protects the upper face from wind, snow and cold when conditions are difficult.
The most important criterion to take in the case of purchasing a visor helmet is the screen technology. At Bollé, our visor helmets can be equipped with Volt or Phantom screen technologies.
Volt high contrast lens technology ensures:
100% UV protection;
30% more color perception;
Enhanced depth perception;
Maintaining the white balance;
High performance polarization.
Photochromic Phantom lens technology offers:
100% UV protection;
a photochromic lens;
optical clarity;
the anti-fog;
excellent impact resistance.
MIPS technology
MIPS stands for "Multidirectional Impact Protection System". This technology helps limit the risk of brain damage, especially in oblique shock, by absorbing rotational energy. To do this, MIPS helmets are composed of a lightweight polycarbonate shell, EPS protective foam and an In-Mold part.
The adjustment system
To fully enjoy your day in the mountains, having a properly adjusted helmet is essential. The helmet is usually adjusted by a dial placed on the back of the helmet, at the back of the neck. The dial adjusts the tightness of the helmet according to the size of the head. All Bollé helmets come equipped with a click-to-fit system or Boa system, making sure your head is nice and secure.
Liners
Depending on the helmets, the liners may be removable. This detail can be very practical for the maintenance of your ski helmet. Indeed, the removable liners can be washed easily.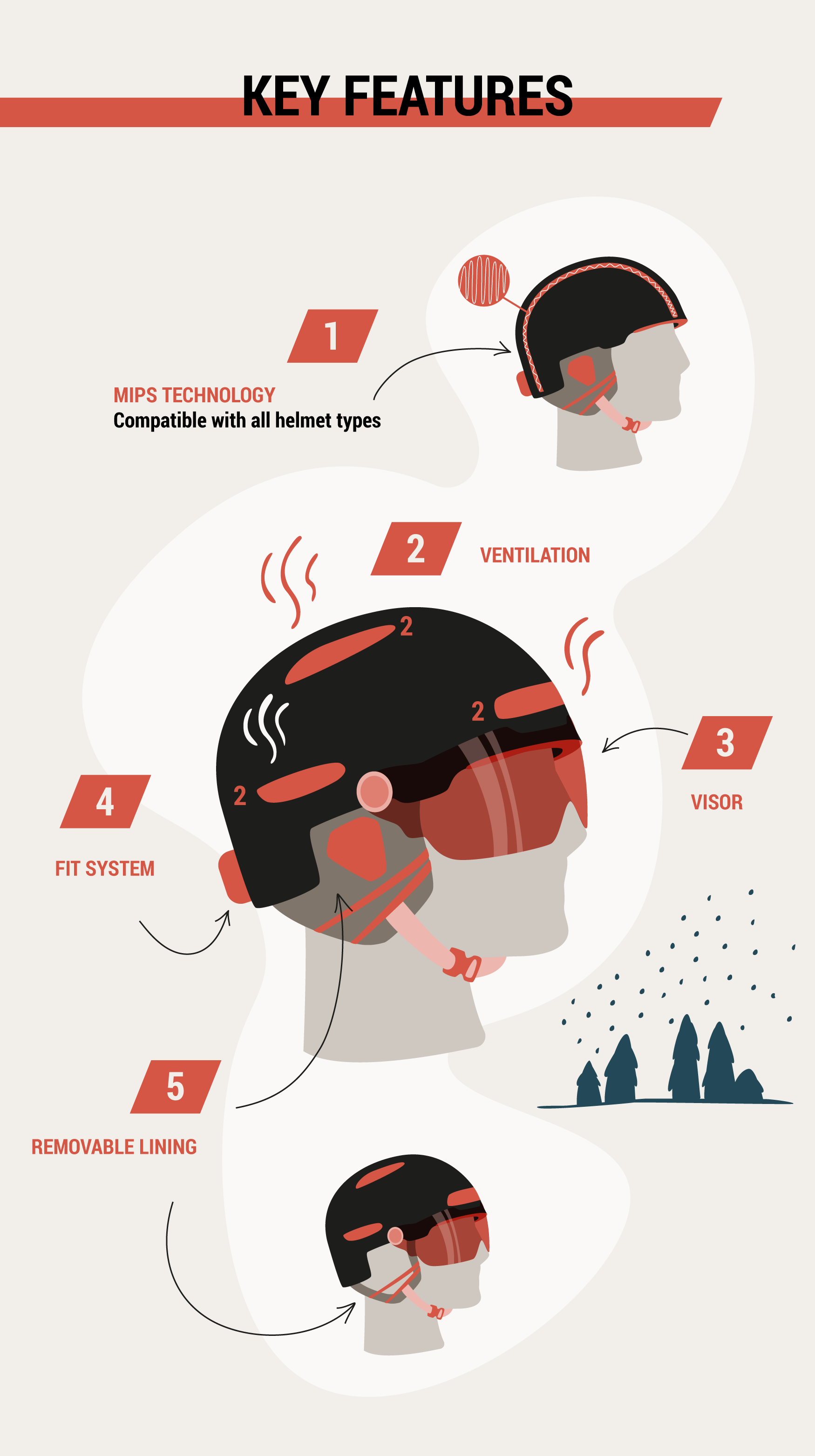 PICKING THE RIGHT HELMET SIZE
How to determine the right size of your ski helmet?
Most helmets come in three different sizes: S – M – L. Be careful, each helmet can have a different breakpoint for each size. To be make it easy, we specify on all our product pages the size in centemeters corresponding to each helmet.
Measure your head circumference
If you order your helmet and can't try it on, your head circumference should be measured. Take a tape measure, place it on your forehead and go around your head, passing it 1 cm above the ears.
A doubt? Because we all have the right to change our mind, we have provided an easy return system to allow you to order with complete peace of mind.
Try on your ski helmet
To get your helmet right, you can proceed in 4 steps.
Do you have a rather round or oval head? Depending on your body type, you can already find the right helmet shape.
Put the helmet on your head for a few minutes and make sure you don't feel any pressure points.
Without hooking the chinstrap, tilt your head forward and to the sides and make sure the helmet fits in place on your head.
Finally, make sure that the helmet reaches you in the middle of the forehead.
DOWNHILL, FREERIDE, HIKING: WHICH HELMET FOR WHICH PRACTICE?
Depending on the discipline practiced, you will not have the same needs or the same constraints. Here is what type of helmet to choose according to the discipline practiced.
Downhill skiing: a versatile, comfortable, ventilated helmet.
Ski touring: an ultra-light and very ventilated helmet, typical mountaineering with many openings.
Ski free ride (off-piste): a ventilated and light helmet.
Freestyle: a reinforced helmet with an emphasis on safety.
Downhill skiing in competition: a specific helmet, with rigid ear cups for maximum protection.
SAFETY STANDARDS
In order to guarantee your safety, your ski helmet must include standard NF EN 1077. This standard only concerns helmets for skiers and snowboarders. It distinguishes two different protection classes: class A and class B. Class A concerns ski helmets with removable ear cups, also called soft ears. Most helmets have removable ear cups because they are easier to put on and take off. Class B concerns ski helmets with rigid ear cups.
WHEN SHOULD YOU CHANGE YOUR SKI HELMET?
Your helmet is not damaged
Even if your helmet does not appear damaged or worn, it should be changed every 5 years because its components wear out. The EPS foam present in all helmet models and responsible for absorbing shocks could be altered and no longer fulfill its role in the event of a fall. So even a helmet that has not been impacted should be changed every 5 years to ensure your safety.
Your helmet has suffered a shock
If your helmet has suffered an impact as a result of a fall or collision, it will need to be changed. The EPS foam that protects your head is indeed crushed to absorb the energy caused by the impact. However, this EPS foam does not reconstitute and does not return to its initial shape. In the event of a further shock, it will not be able to provide the same level of protection.
Good to know
Even when transporting or storing, take care of your headphones. A fall on icy snow, on the asphalt in the ski resort parking lot or on the garage tiles can also damage your helmet.
HOW TO MAINTAIN YOUR SKI HELMET?
Between two days of skiing
Once the last descent has been completed, you are tempted to put your helmet back in its protective cover and forget about it until the next day. However, it is better to let it dry to remove all traces of moisture (melted snow, sweat, etc.). This will prevent bad odors, promote its lifespan and make it all the more pleasant when you put it back on the next day.
At the end of the season
When winter ends, we recommend that you remove the removable foam parts and wash them. Let them dry before putting them back in place. You can also wipe the outside with a cloth before storing your ski helmet until next season. Store it away from heat sources and direct sunlight. Also take care to avoid any contact with hydrocarbons, paints and cleaning products.